Four Paintings

Keywan Tafteh
Community as a queer may often feel distant. There is always a search – for companionship, safe space, intimacy, authenticity... and sometimes this is all found. Until it is, a period of uncertainty takes hold. A liminality where one floats and grasps to strangers for comfort in hopes someone will act as a guide. The traveller is vulnerable/malleable to those who they attach onto. Figures may hold some prominence for a time, but they repeatedly disappear, only to be replaced by another body for comfort.
This selection of paintings comment on the loneliness one surely feels navigating these spaces. Figures are blurred and blended to the point of uncertainty. One body suddenly becomes another, or disappears into the background, as they do in
Evening Gesture
. Identities are not clear or not even present. Instead faces are in shadow and bodies come forward. Anonymity is central to how the figures are able to exist. Even instances where rendering is present, such as in
Evening Spark
, anatomy is not linked to any character. Hands lure the viewer into the work, beckoning them further and further. They pull on strings that light up to reveal where they stand, but soon the spark will fade and the night will draw back in.
Bed, side, stain
Acrylic paint, charcoal, oil stick, collage, & stains on canvas
48x36"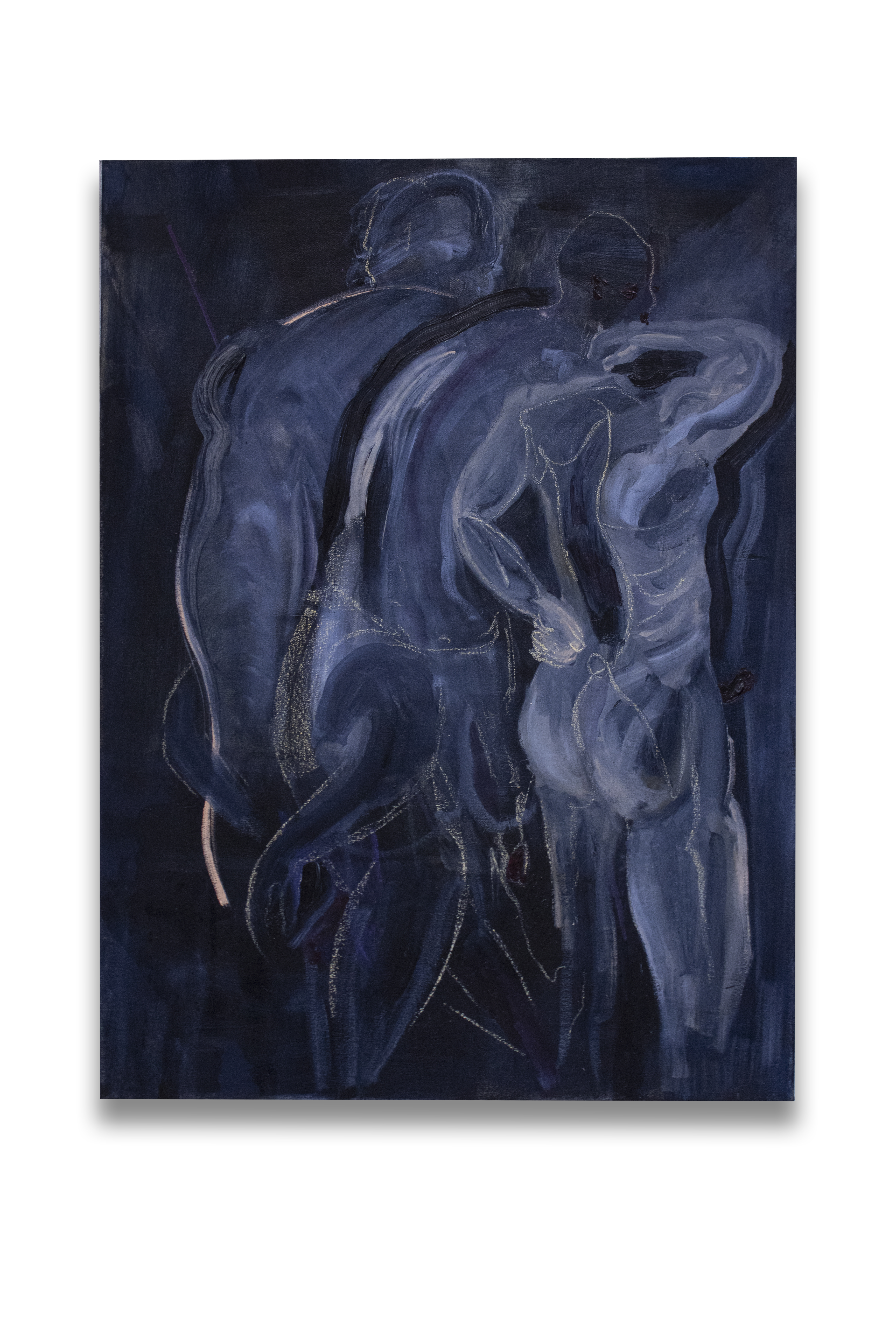 Evening Gesture
Oil paint & pastel on canvas
30 x 22"
Shadowplay
Acrylic paint, pastel, oil pastel, charcoal, spray paint, collage on canvas
40 x 30"





Evening Spark
Charcoal, acrylic paint, airbrush, pastel on canvas
47.5x24"